We explore the life of Virginia Woolf, her main contributions to Anglo-Saxon literature, and her tragic end.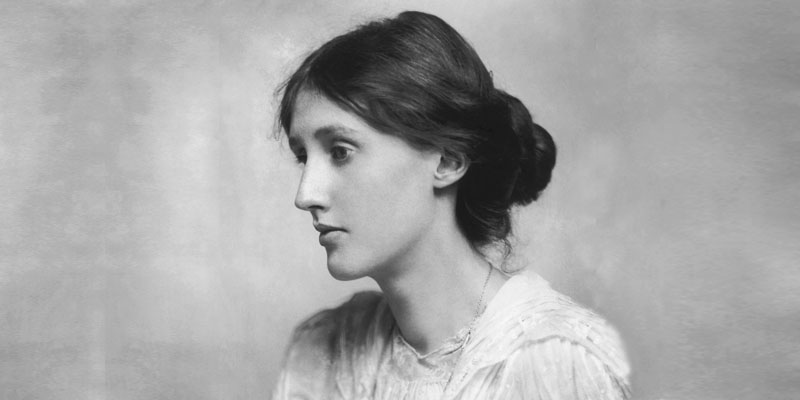 Who was Virginia Woolf?
Virginia Woolf was an English writer renowned for her contribution to contemporary fiction and for being one of the central figures in Anglo-Saxon literary modernism, which reached its height between 1900 and 1940. Although she mainly wrote novels, she was also the author of short stories, essays, and biographies.
Alongside her husband Leonard Woolf, Virginia was part of the so-called Bloomsbury Group, comprised of several British intellectuals of the interwar period, such as John Maynard Keynes (1883-1946) and E. M. Forster (1879-1970), among others.
Her work stands as a literary touchstone for contemporary feminism, most notably her celebrated essay A Room of One's Own, where she reflects on the challenges faced by a woman aspiring to an intellectual life.
Finally, her lifelong struggle with bipolar affective disorder, as well as her tragic suicide in the River Ouse, near Lewes, have served as inspiration for novels, films, and plays by various authors.
Birth and early years of Virginia Woolf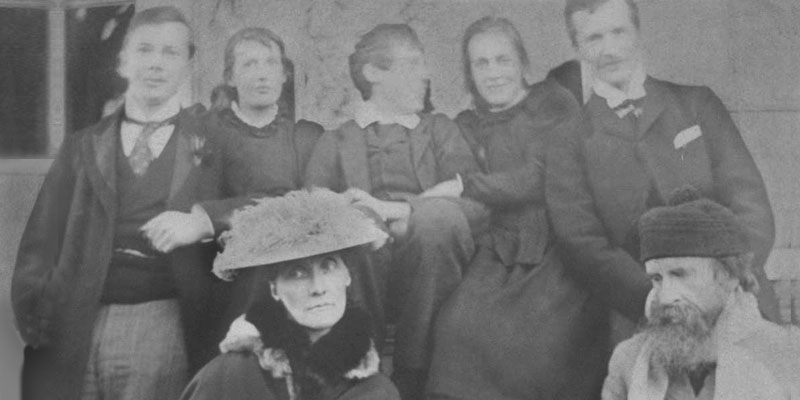 Adeline Virginia Stephen was born in London on January 25, 1882, into a wealthy family in the Borough of Kensington. Her father was historian, essayist and biographer Leslie Stephen, and her mother, Julia Jackson, was a model for the Pre-Raphaelite painters. Virginia was the second of the couple's four children, with siblings Vanessa, Thoby and Adrian. The family household also included children from their parents' previous marriages: a daughter from Leslie's first wife, and three from Julia and her first husband.
Virginia's parents gave their children a privileged upbringing. The Stephen home, located at Hyde Park Gate, was a frequent gathering place for prominent artists and writers of Victorian society, like Henry James (1843-1916) and Thomas Hardy (1840-1928). Virginia and her sister Vanessa did not attend traditional schools; instead, their education was entrusted to private tutors and instructors.
From an early age, the creative talent of both sisters became evident. Vanessa, who would eventually become a painter, began sketching her earliest drawings, while Virginia ran a family newspaper entitled Hyde Park Gate News. Although the elder sister was motherly and protective towards Virginia, competition between the two was not unfamiliar.
The family used to spend their summers on Cornwall's coast, where they had a country house overlooking Porthminster Beach. It was there that Virginia lived her most cherished childhood moments between 1882 and 1894, and many of these landscapes, like the Godrevy Lighthouse, would appear in her literary works decades later.
The Bloomsbury Group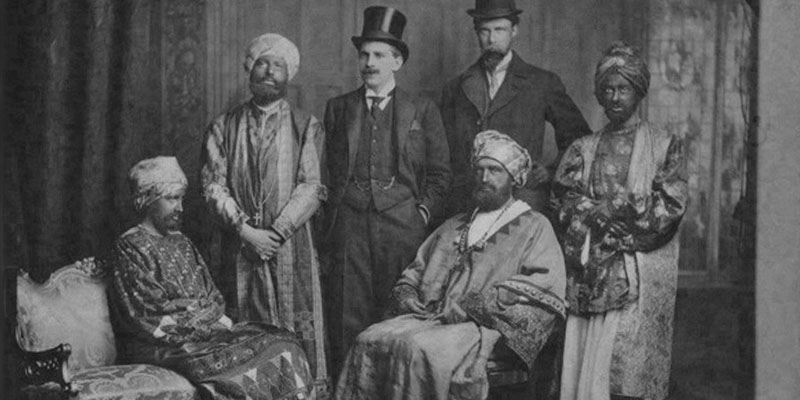 Family life was disrupted by the sudden death of her mother in 1895, when she was only 49 years old, followed by that of her half-sister Stella, two years later. These events plunged Virginia into the first severe depression of her life. However, it was the death of her father in early 1904 that brought on a nervous breakdown for which she had to be hospitalized. She was 22 years old.
From then on, Virginia's older sister, Vanessa, took charge of the household and the younger siblings, under the control of her older maternal half-brothers, George and Gerald Duckworth.
Those were years of suffering for the Stephen sisters, who, in addition to the death of their parents, they had to endure mistreatment and sexual abuse at the hands of their half-brothers. Years later, Virginia referred to this dark chapter of her youth in her autobiographical essays A Sketch of the Past and 22 Hyde Park Gate.
Eventually, the sale of their ancestral home and the move away from their maternal half-brothers allowed the Stephens to lead a more pleasant life. Vanessa and Adrian bought a house in the London neighborhood of Bloomsbury, where they could freely engage in their studies and artistic creation, and host guests from London's intellectual and artistic circles.
In 1905, Virginia set up the "Friday Club", and her brother Thoby started the "Thursday Evenings". With these names they humorously made reference to their gatherings with Thoby's fellow students, and Virginia herself, who in those years had joined King's College in London, to debate, converse, and share ideas.
Among the attendees was, in late 1904, the young Leonard Woolf, Virginia's future husband, who that same year left for Sri Lanka for a position in the colonial service. Another figure was art critic Clive Bell (1881-1964), who Vanessa would marry in 1907.
These gatherings evolved into the so-called "Bloomsbury Group", which brought together some of the most prominent English intellectuals and artists of the early 20th century, including John Maynard Keynes (1883-1946), Lytton Strachey (1880-1932), E. M. Forster (1879-1970), Ludwig Wittgenstein (1889-1951), and Bertrand Russell (1872-1970), among other personalities from the exclusive society of the "Cambridge Apostles".
Although its members never explicitly recognized themselves as a group, they shared aesthetic, political, and humanistic principles, as well as a profound rejection of the rigid Victorian morality, religion, and realism of the 19th century. They championed individualism and freedom of thought, allowing for more liberal views on personal relationships and individual pleasure.
The group garnered public attention in England at the time, largely due to an incident that came to be known as the "Dreadnought hoax", a prank the young artists pulled on the British Navy in 1910 that captured the attention of the press. Virginia participated in the hoax, disguised as an African prince.
The Bloomsbury Group was deeply affected by World War I, though its members continued to develop their successful careers, which for most of them reached their height after 1920 and lasted until the late 1930s.
"The Dreadnought Hoax" was the name given to a satirical trick played by several members of the Bloomsbury Group along with Irish poet Horace de Vere Cole (1881-1936). On February 7, 1910, the poet convinced the British Navy to show its flagship, HMS Dreadnought, to an alleged Ethiopian delegation which actually consisted of several members of the group in disguise. The mockery caught the attention of the press, and the British Navy was ridiculed.
Marriage to Leonard Woolf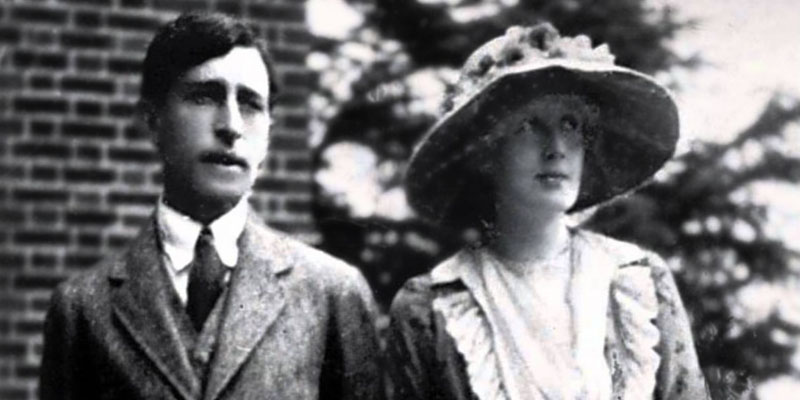 Virginia formally began writing in 1905, when she published her earliest texts in the Times Literary Supplement. Her relationship with writing soon became her mainstay, especially after the death of her brother Thoby in 1906 and the "loss" of her sister Vanessa in 1907, the year of her marriage to Clive Bell.
Furthermore, the intellectual stimulus of the Bloomsbury Group called for new artistic forms. Thus, in 1908, Virginia set out to reshape the novel genre with a narrative project that would depart from the Victorian conventions of the time. This novel, entitled Melymbrosia, was not completed until 1912.
Virginia became notably influenced by the work of post-impressionists Paul Cézanne (1839-1906) and Pablo Picasso (1881-1973), which burst in on the London scene in 1910. At the time, Virginia's mental health was fragile, and writing served as her main lifeline. Until, in 1911, Leonard Woolf returned from the East and began to court her. Despite his precarious financial situation (Virginia refers to him in her diaries as a "penniless Jew"), they married in August 1912, when she was 30 years old. They spent their honeymoon in Spain.
From the beginning, the couple shared a close bond, both romantically and professionally. Leonard himself was a writer and was also critical of the bourgeois lifestyle. In 1913, he published his anti-colonialist novel The Village in the Jungle, and after releasing another novel in 1914, he turned to political writing and social activism.
Meanwhile, Virginia fully reworked her debut novel in 1913, published under the title The Voyage Out by her half-brother Gerald Duckworth's publishing house. However, the book's release had to be postponed until 1915, as Virginia suffered another nervous breakdown. Convinced she was a failure as a woman and writer, feeling despised by her sister and undervalued by Leonard, Virginia unsuccessfully attempted to take her own life in September 1913.
In April 1915, Virginia experienced further bouts of mental distress and succumbed to delirium for quite some time. However, that same year, she significantly recovered from her "evil imaginations", which she managed to largely keep at bay until the end of her days.
Much has been written about Virginia and Leonard Woolf's marriage, and the complicated relationship they had. It is known that their sex life was not particularly active, partly due to Virginia's traumas with her half-brother, her continuous and sudden mood swings, and Leonard's lack of experience. Their relationship was more of an intellectual character and literary admiration. Furthermore, Virginia maintained a relationship with poet Vita Sackville-West for several years. Leonard, in turn, devoted himself tirelessly to Virginia, both as husband and editor, even following her death.
Hogarth Press
In 1917, the Woolfs purchased a handpress and started their own publishing venture: Hogarth Press, named after their suburban London residence, Hogarth House. They published their first joint work, Two Stories: a book featuring Three Jews by Leonard, and The Mark on the Wall, by Virginia, to great success. Of the 150 copies made, 134 were sold.
Being able to publish her own books allowed Virginia to dedicate herself fully to literary experimentation, without concerning for typical publisher preferences. Moreover, it enabled her to become acquainted with the works of contemporary writers, not always highly esteemed by Virginia, such as James Joyce (1882-1941), T.S. Eliot (1888-1965), and Katherine Mansfield (1888-1923), with whom she shared a relationship of both mutual admiration and dislike.
When Leonard's political activity took him away, Virginia would often retire to her sister's country house in Sussex. Vanessa had separated from her husband to live with British painter Duncan Grant (1885-1978), and their home often hosted numerous artists. During these years, Virginia resumed writing her diaries, which she had kept intermittently since 1897.
Virginia's next novel was Night and Day (1919), a response to The Wise Virgins, a novel her husband had published in 1914 scandalizing members of his own family. That same year, her essay "Modern Fiction" came out, the result of the weekly readings she reviewed for the Times Literary Supplement, and her short story "Kew Gardens", set in London's botanical garden, and illustrated by her sister Vanessa.
That year, the Woolfs bought a small cottage in Rodmell, in the countryside, where Virginia could get away to write, take walks, cycle, and even visit her sister. In 1920, Virginia became part of the "Memoir Club", initiated by some of her fellow members of the Bloomsbury Group, where members gathered to read aloud excerpts from their own autobiographies.
In 1922, Jacob's Room, her third novel, was published, inspired by the death of her brother Thoby. It was an anti-war novel exploring loss through minimalism, sidelining plot and conflict. As she expressed at the time, a novel should be "an emotion felt".
Shortly after, Virginia met poet Vita Sackville-West (1892-1962), wife of Harold Nicholson, with whom she had a clandestine relationship that went on for much of the decade. Both authors dedicated works to each other and maintained intense correspondence. After their romance ended, they remained friends until Virginia's death in 1941.
Major novels of Virginia Woolf
In 1924, the Woolfs relocated once again in Bloomsbury, where they could lead a life less isolated from urban dynamics. Over the ensuing years, Virginia wrote what were to become her most notable works.
Many of these writings were part of an attempt by Virginia to create a new genre that emerged from the novel but departed from it to the point that she even considered presenting them as belonging to a new genre, but whose name she was never able to specify.
Thus, in 1925 she revisited a character that had previously appeared in several of her short stories, and created one of her most celebrated novels: Mrs Dalloway. It is an account of the events of a single day in London, narrated in the manner of a post-impressionist painting, shifting seamlessly from one character's consciousness to another's. This technique later became known as "stream of consciousness".
Virginia experimented with this technique once again in 1927 in her next novel, To the Lighthouse, which is divided into three parts, and does not follow a chronological logic. In it, the author's childhood memories are evoked. At the same time, the novel serves as an elegy mourning her mother's death.
That same year, her essays "The Art of Fiction" and "The New Biography" came out, in which she held that fiction writers should be more concerned with the language and design of the work than with the reality from which it originates.
In 1928, Virginia put theory into practice with Orlando: A Biography. This fantastical novel, inspired by anecdotes of Vita Sackville-West's life, features a protagonist who travels through five centuries of English history, often changing gender and perspective. This work stands as a tribute to her beloved Vita, with whom her relationship had cooled.
The following year witnessed the publication of "A Room of One's Own", one of the most renowned essays by Virginia Woolf. It is an exploration of the absent role of women in history, which the author attributes not to their lack of genius, but rather of material resources. Hence her famous statement on what a woman needs in order to venture into the intellectual world: "money and a room of her own".
Inspired by her sister Vanessa's paintings exhibited in 1930, Virginia embarked on crafting a mystical, impersonal, and abstract novel: The Waves. Published in 1931, this novel gives voice to six characters as they recount their life stories, interspersed with poetic interludes that depict the heavens from dawn to dusk.
This important body of work, published almost entirely by Hogarth Press, solidified Virginia Woolf's stature in Anglo-Saxon modernism, alongside James Joyce and the American William Faulkner (1897-1962).
Death of Virginia Woolf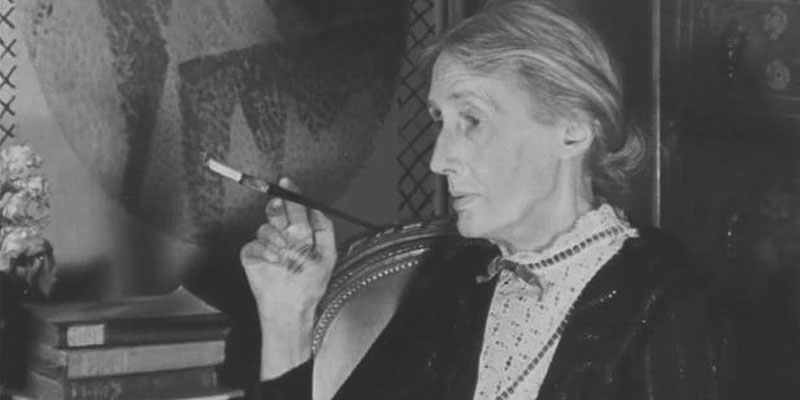 As the 1930s drew to a close, concerns over an impending Second World War spurred Virginia to hurry certain projects. Both Virginia and Leonard had been outspoken critics of Nazism, most notably in her essay Three Guineas (1938), and were on Adolf Hitler's (1889-1945) blacklist.
Among these final undertakings was The Years (1937), a reworking of an earlier composition portraying three generations of the Pargiter family. Her last novel, Between the Acts, is a sort of memoir set during the staging and performance of a play at a festival in a small English village. It was published posthumously in 1941.
The outbreak of the war in 1939 exposed the Woolfs, like many Londoners, to bombardments by German aircraft. Virginia's old childhood home was destroyed, which had a profound emotional impact on her. This devastation, coupled with the death of her friend Roger Fry in 1934 and the failure of the biography she later wrote about him, plunged her into depression.
By 1941, she found herself unable to continue her work. Overwhelmed by despair, on March 28, she wrote a note to Leonard and left their home. Weighing down her coat pockets with stones, she threw herself into the River Ouse, close to their residence. She was 59 years old.
Her body was not found until April 18. Leonard gave burial to her cremated remains beneath a tree in the Rodmell countryside.
Virginia Woolf's final written words were her suicide note, addressed to her husband Leonard, left on a table before heading to the river. These poignant last words were:
"Dearest,

I feel certain that I am going mad again. I feel we can't go through another of those terrible times. And I shan't recover this time. I begin to hear voices, and I can't concentrate. So I am doing what seems the best thing to do. You have given me the greatest possible happiness. You have been in every way all that anyone could be. I don't think two people could have been happier till this terrible disease came. I can't fight it any longer. I know that I am spoiling your life, that without me you could work. And you will, I know. You see, I can't even write this properly. I can't read. What I want to say is I owe all the happiness of my life to you. You have been entirely patient with me and incredibly good. I want to say that – everybody knows it. If anybody could have saved me, it would have been you. Everything has gone from me but the certainty of your goodness. I can't go on spoiling your life any longer. I don't think two people could have been happier than we have been."

V.
Major works of Virginia Woolf
Virginia Woolf was, above all, a great Anglo-Saxon novelist and essayist. Her work, however, also encompasses notable short stories and a few biographies. Among her most important works are:
Novels
Mrs Dalloway (1925)
To the Lighthouse (1927)
Orlando: A Biography (1928)
The Waves (1931)
Between the Acts (1941) (Posthumous)
Essays
Modern Fiction (1919)
A Room of One's Own (1929)
Three Guineas (1938)
The Death of the Moth and Other Essays (1942) (Posthumous)
Short stories
"Kew Gardens" (1919)
"The New Dress" (1924)
"Mrs Dalloway's Party" (1922)
References
Carrión Villalpando, G. (2017). "Lo que dejaron atrás: famosas notas suicidas". Tlamatini. http://humanidades.uaemex.mx/
Chikiar Bauer, I. (2012). Virginia Woolf: la vida por escrito. Random House.
Lee, H. (1997). Virginia Woolf. Random House.
Ministerio de Cultura de Argentina. (2020). Virginia Woolf, una escritora de vanguardia. https://www.cultura.gob.ar/
Morató, Y. (2020). "Lo escrito escrito queda: los diarios de Virginia Woolf". Jot Down Magazine. https://www.jotdown.es/
Reid, P. (2023). "Virginia Woolf (British writer)". The Encyclopaedia Britannica. https://www.britannica.com/
Explore next: