We explain who Frida Kahlo was, and explore her childhood and the development of her works. In addition, we discuss her style and death.
Who was Frida Kahlo?
Frida Kahlo, original name Magdalena Carmen Frida Kahlo y Calderón, was a Mexican painter born in Coyoacán on July 6, 1907. She died on July 13, 1954.
As a child, Frida contracted polio and, at the age of 18, she suffered a severe bus accident that nearly took her life. As a result, she had to undergo 32 surgeries over the years. The hardships she faced are vividly reflected in her artwork.
She was the wife of renowned Mexican painter Diego Rivera, who introduced her to the circle of the most prominent artists of the time, and received acclaim from notable art figures such as Marcel Duchamp, André Breton, Wassily Kandinsky, and Pablo Picasso.
Frida Kahlo's works also convey her political and social commitment. Widespread recognition came posthumously, especially from the 1970s onward, and she is now regarded as one of the major artists in Latin America.
Birth and childhood of Frida Kahlo
Frida Kahlo was born in Coyoacán, Mexico, on July 6, 1907. Her father, German photographer Guillermo Kahlo, was of Hungarian-Jewish descent, and her mother, Matilde Calderón, was Mexican of Spanish and indigenous ancestry, born in Mexico City.
As a child, Frida learned to develop, retouch, and color photographs under her father's guidance, which later influenced her passion for painting.
At the age of six, she contracted polio, and her father took care of her during the six months of her recovery. As a consequence of the disease, she was afflicted with a limp throughout her life.
Accident and painting of Frida Kahlo
In 1922, Frida entered the National Preparatory School in Mexico City, her intention being to study medicine. However, on September 17, 1925, the bus in which she was traveling collided with a streetcar, and Frida was severely injured.
Although she managed to survive, she suffered multiple injuries that would shape her life. Her spine suffered several fractures and, over the years, she underwent over 30 surgeries and had to wear plaster corsets. During the initial months of convalescence, she was bedridden; she abandoned the idea of studying medicine and began painting. In 1926, she painted her first self-portrait.
Frida Kahlo and the Communist Party
Two years after the accident, Frida had recovered sufficiently to reconnect with friends and associate with personalities in the fields of art, thought, and politics. She identified with a cultural movement seeking to recover elements of the Mexican popular tradition, including indigenous influences.
In 1928, her friend Germán del Campo introduced her to Cuban communist leader Julio Antonio Mella, who was in exile in Mexico with his partner, Italian photographer Tina Modotti. Frida began attending meetings of the Mexican Communist Party and became romantically involved with Diego Rivera, who had been a member of the party since 1922.
Following a stay in the United States between 1930 and 1933 with Rivera, whom she had married in 1929, she returned to Mexico City. Between 1937 and 1939, she provided refuge to Russian communist exile Leon Trotsky, persecuted by the Stalinist government, who was eventually assassinated in 1940.
Frida maintained her adherence to communism for the rest of her life. Upon her death, her coffin was draped with the flag of the Mexican Communist Party.
Frida Kahlo's marriage to Diego Rivera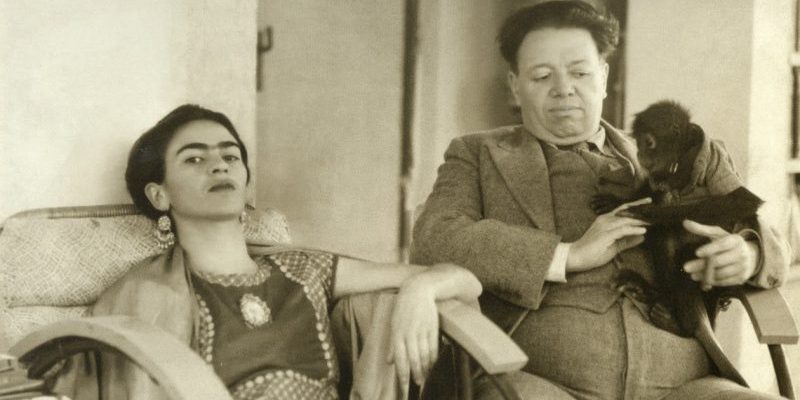 Frida met muralist Diego Rivera in 1922, when he was painting a mural at the National Preparatory School she attended. However, their romantic relationship only began in 1928 when they were introduced by communist activists Julio Antonio Mella and Tina Modotti.
Frida shared her artwork with Rivera, who encouraged her to continue painting. They married in 1929. She was 22 years old and he was 42. The marriage was tumultuous, marred by extramarital affairs from both parties, most notably Rivera's relationship with Frida's younger sister, which led to their divorce in 1939. However, they remarried at the end of 1940.
Frida's relationship with Rivera influenced not only her artistic style but also the way she dressed. She usually wore colorful garments characteristic of indigenous women in some regions of Mexico, particularly the Tehuana dresses, which pleased her husband. These included necklaces, ornamental combs, or flower headdresses, which became a hallmark of Frida Kahlo's image.
Attempts at motherhood and death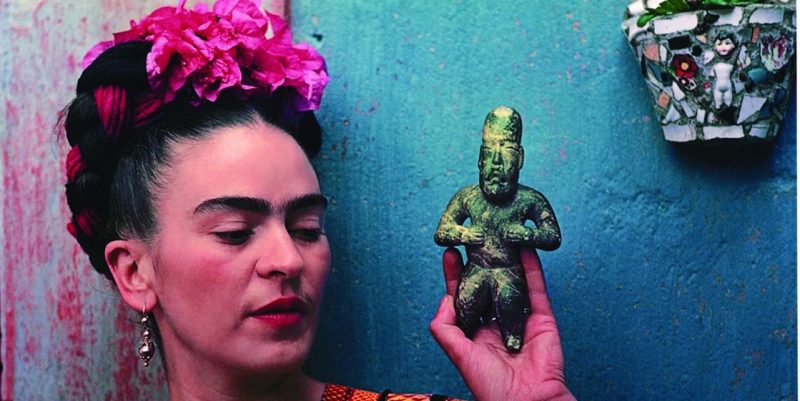 Frida became pregnant with Rivera's child on three occasions but, due to her health problems, she lost each pregnancy. Some of her artwork conveys her thwarted desire for motherhood and the pain from the lost pregnancies.
Throughout her life, Frida continued to suffer from ailments and medical treatments. Her health deteriorated towards 1950, and she eventually died on July 13, 1954 at the age of 47, due to a pulmonary embolism. Some versions suggested it might have been a suicide, but no evidence has ever appeared to support this theory.
She had expressed her wish not to be buried, on the grounds that she had been bedridden for many years. Her body was cremated and her ashes were placed in a pre-Columbian urn at The Blue House (La Casa Azul) in Coyoacán, where she had lived most of her life and which today houses the Frida Kahlo Museum.
The Blue House
In the famous Blue House (La Casa Azul) in Coyoacán (Mexico City), on the corner of Londres and Allende streets, Frida Kahlo was born, grew up, and produced much of her great artistic work.
Diego Rivera also lived in this house during the time they were married, and it was frequented by artists and intellectuals. Moreover, the Blue House sheltered communist militant refugees, among them Leon Trotsky and his wife.
Following Frida's death, the Blue House and its gardens became home to the Frida Kahlo Museum, which opened on July 12, 1958. Today, it exhibits paintings and personal objects of Frida Kahlo and Diego Rivera, as well as documents, books, furniture, dresses, and pre-Columbian sculptures that were the environment in which Frida created her works.
The work of Frida Kahlo
Her artistic style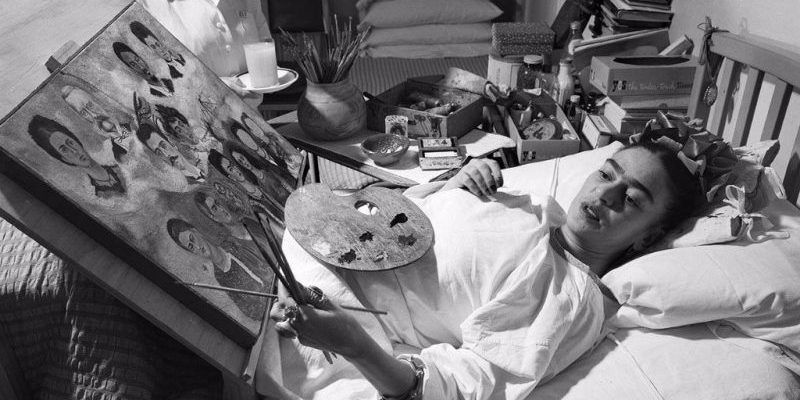 Frida Kahlo's art largely consisted of paintings that conveyed the suffering and torments she experienced throughout her life. She painted numerous self-portraits in which she crudely expressed her personal experiences and also distanced herself from the artistic stereotypes about femininity, which later influenced her image's revival by feminist movements after her death.
In her nearly 200 works, in addition to self-portraits, she painted still lifes and touched upon social and political themes. Her art often portrayed Mexican folklore since, like many artists and intellectuals following the Mexican Revolution, she was concerned with rescuing aspects of Mexican folk art.
She also incorporated into her art symbolism and images from the recent history of communism, which had made an international impact after the Bolshevik revolution of 1917 and whose ideology was embraced by Frida.
Frida Kahlo's style is difficult to classify. On one occasion, her work was defined as surrealist, which she rejected claiming that her art dealt with her own real life. She has also been associated with primitivism and expressionism.
Her most renowned works include Self-Portrait in a Velvet Dress (1926), Henry Ford Hospital (1932), The Frame (1938), The Two Fridas (1939), The Broken Column (1944), Moses (1945), The Wounded Deer (1946), and Diego and I (1949).
Her color choice
In her works, Frida used bright vibrant colors, which became hallmarks of her style. According to the artist, the colors she used bore specific meanings:
Good warm light.
Blood (the red color in her paintings and some of her frames may have symbolized the blood she shed throughout her life: in the accident, surgeries, and miscarriages).
Madness, fear, illness, mystery.
Love, purity, electricity, distance, and tenderness.
Exhibition of her artworks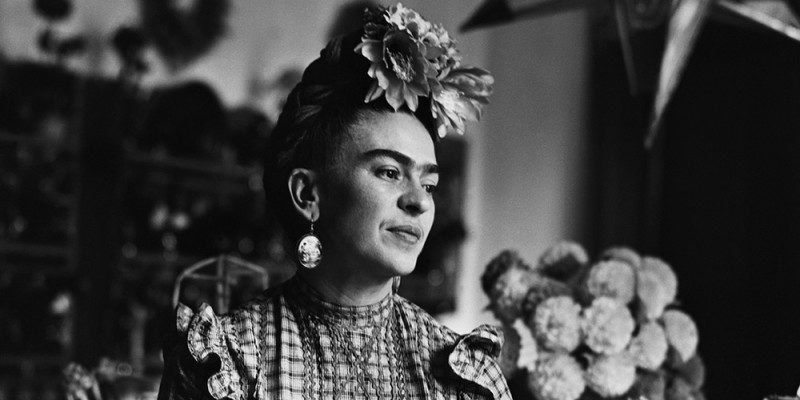 Frida Kahlo's first solo exhibition took place in November 1938 at the Julien Levy Gallery in New York. Her work had been promoted by surrealist writer André Breton, who had traveled to Mexico and had been impressed by her work. In 1939, she exhibited in Paris, and the Louvre Museum acquired her piece "The Frame" (El marco). In subsequent years, she exhibited in other cities, especially in the United States.
Frida had only one solo exhibition in her home country. On the opening day, April 13, 1953, her health was so deteriorated that her doctor advised against getting out of bed. Nonetheless, Frida chose to arrive by ambulance and attended the event lying on a hospital bed.
Following her death, and particularly from the 1970s onward, her work acquired widespread recognition, and her paintings have been exhibited in galleries and museums worldwide.
Explore next:
References